DOT Truck & Cargo Tank Inspections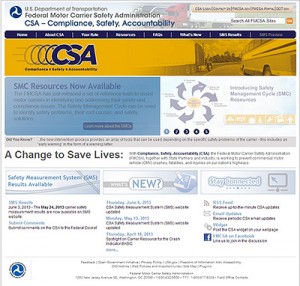 EMS has qualified DOT inspectors on staff and can offer inspections, testing, and repair to make sure your cargo tanks meet current DOT standards.
We can predict and fix issues before they become a problem that will affect your CSA score. We do external & internal repair.
According to CSA's federal Safety Measurement System, vehicle maintenance is a major contributor to your CSA score. Failure to properly maintain a CMV and/or properly prevent shifting loads, having mechanical defects, failure to make required repairs, and improper loading all affect your score.
How Does CSA Work?
*A CSA score is given to companies according to how well they are complying with safety rules. The new CSA Operational Model consists of: Measurement of safety performance (driver & vehicle); Evaluation to correct high-risk behavior; and Intervention – CSA covers the full-spectrum of safety issues, from how data is collected, evaluated, and shared to how enforcement officials can intervene most effectively.
*see the federal CSA website for more information
What is My Score?
You can visit the Motor Carrier Safety Measurement System website to view your up-to-date monthly SMS score.