Annual Cargo Tank Inspections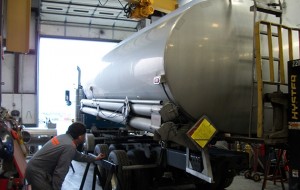 EMS has DOT qualified cargo tank inspectors on site. All cargo tanks are required to be inspected and tested before they can be filled with anything and transported. Tank testing includes an internal and external visual inspection and test, a lining inspection, a pressure test, a leakage test, and a thickness test.
The procedures for the tests are federally regulated. If a cargo tank fails any of the tests or inspections, it has to be repaired and retested or it cannot stay in service.
Test and Inspection Requirements
These are tests we do on "Specification Cargo Tanks" as required by the Department of Transportation. A "Non-Spec" tank is only required to have an annual vehicle inspection.
V – External Visual Inspection – Annual Test
K – Leakage Test – Annual Inspection
I – Internal Visual Inspection – Five Year Test
P – Pressure Test – Five Year Test
T – Thickness Test – Two Year Test
UC – Upper Coupler Inspection – Five Year Test